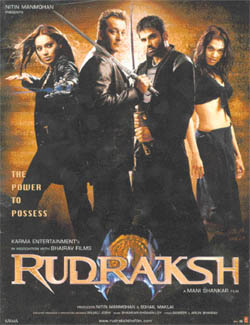 "Rudraksh." Bollywood, 2004.
Psychics, faith healers, Tibetan wise men, Apple Computers, and scientists from the University of California battle against demons last discussed in the Ramayana and buried for years over the struggle over the future of the world.
The demons control tv and radio and spread rioting over every continent.
Out of Body Experience is discussed as plugging into the "divine internet".
Our hero is the bodyguard at a rave club.
The evil demons are Indians who participate in faux-Victorian/goth Europeanized aesthetics (wearing crosses, black leather, long flowing white dresses, etc).
Discuss.
Link:
Preview Rudraksh